Hey everyone!
Remember when you were a little kid and your parents made you ration out your candy so you didn't fall into a sugar coma and/or cost them small fortune at the dentist's office? If not, then congratulations, your parents were way cooler than mine.
Remember when you were living on your own and you decided to eat Halloween candy for breakfast, lunch, and dinner in your own defiant act of rebellion? You walked around wearing your clothes inside out, singing along to and blasting Mariah Carey's Fantasy (remix feat. ODB, obviously), and refusing to do the dishes (dude - you left them NEXT to the sink - NEXT TO THE SINK! HA! DAMN THE MAN!)
Remember last Halloween, when you dressed up your cute little nuggets in adorable costumes, took them door to door around the neighborhood, and promised yourself that you would not steal from your kids' candy loot?
Did you keep that promise?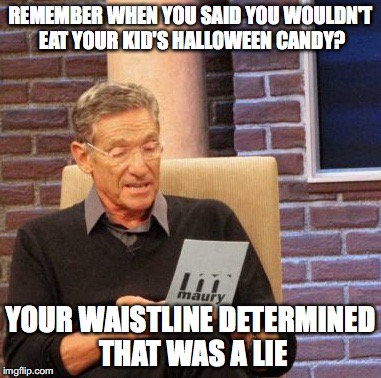 This year - we have the opportunity to do something really great - not just for your waistline, and your kids' dental health, but for our troops. Operation Gratitude is an amazing organization that sends care packages annually to over 150,000 New Recruits, Veterans, First Responders, Wounded Warriors, Care Givers and to individually named U.S. Service Members deployed overseas. Our mission is to lift the spirits and meet the evolving needs of our Active Duty and Veteran communities, and provide volunteer opportunities for all Americans to express their appreciation to members of our Military. Each package contains donated product valued at $75-100 and costs the organization $15 to assemble and ship. Since its inception in 2003, Operation Gratitude volunteers have shipped more than One Million Care Packages. (www.operationgratitude.com)
Following Halloween, we will have donation boxes set up at the gym for all our members to donate any Halloween candy. We will have paper and coloring books for your children to write letters thanking our troops, and you are certainly more than welcome to sign a card for them too! We will be accepting donations up until November 14, 2015 (The Gobbler Classic!) at which point we will box up and ship out the donations!
We are really excited to do something good for those who serve and protect us, and we are happy to answer any questions you might have. Feel free to e-mail us or comment. Thank you!
For more information on the Halloween drive and Operation Gratitude, please click here: